When it came to choosing the best glazing for a balcony and balustrades in a new, high-spec Scottish home, toughened glass specialist TuffX was the only name in the frame.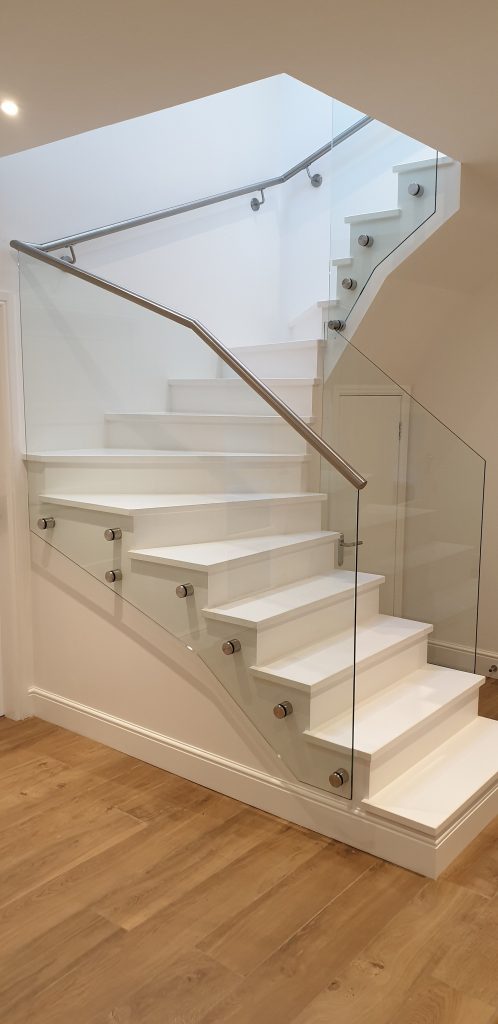 The single dwelling set in beautiful rural Scotland has a stunning, clear glass balcony to the rear of the property, giving uninterrupted views over the surrounding countryside while being tough enough to stand up to the harshest extremes of the Scottish weather. Inside, the minimalist, white and contemporary design is complemented with bespoke clear glass balustrades enhancing the overall feeling of light and space.
TuffX supplies glass balustrading to both smaller domestic projects and large-scale commercial builds, manufactured in a range of glass thicknesses with drilled holes, cut-outs or shaping as required. In this case, the specification was for ten panels of 12mm thick clear glass, with a polished edge finish and radius corners for a clean, contemporary appearance.  The seven panels on the balcony required 14mm drilled holes, while the three for the stairs had 26mm drilled holes.
As with all TuffX products, the balustrades were manufactured in-house, for unrivalled quality and lead times. "This is another great example of a successful project benefitting from our high-quality products and our experience as a leading safety glass manufacturer for over 25 years," said TuffX's Managing Director Graham Price.
"It's this experience, coupled with consistent investment in our factory and staff, that allows TuffX to remain flexible and consistently able to fulfil orders on a prompt 5-6 day lead time, with an express service also available."