SupaLite, the Preston-based tiled roof specialists, have become the new headline sponsor of their local amateur football team.
The firm, which specialises in lightweight tiled replacement roofs for conservatories and orangeries, are now the main sponsor for the Preston North End Supporters Club. The deal sees the famous SupaLite logo feature on the front of the team's white and navy jerseys.
The club represents Championship team Preston North End in the IFA British League, a competition which allows fans and supporter groups to compete against other teams from clubs across the country. Preston are leading the way in the British League, after winning both the 2016/17 and 2017/18 league titles.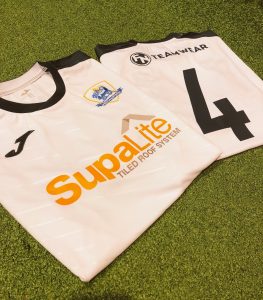 "We are absolutely thrilled to be sponsoring such a fantastic local team like the Preston Supporters Club," comments Steve Hacking, Managing Director of SupaLite. "It's a great opportunity for us to not only throw our support behind a local cause, but to promote the SupaLite brand to a new audience. They are a great group of guys and we wish them every success both on and off the pitch."
Dean Newsham from the Preston Supporters Club adds: "We are delighted to welcome SupaLite onboard as our new sponsor and we thank Dave, Steve and the SupaLite team for their support. Sponsorship is absolutely vital for a team like ours to operate, so we are grateful that a local business like SupaLite is willing to get really behind us and sees the value we can offer. This is an exciting partnership, and we look forward to seeing what we can achieve together."
SupaLite are the UK's leading manufacturer of tiled replacement roof systems for conservatories and orangeries. The Preston firm rose to prominence in the retrofit market, providing installers with a lightweight, easy-to-install and desirable roof solution which eliminates the dramatic changes in temperature seen in traditional conservatories.
Now, SupaLite covers a wide range of solutions to match any conservatory configuration, and is delivering the difference for both fabricators and installers across the UK. Fully accredited for Building Regulations Approval, a SupaLite tiled roof provides a valuable, new route to market for tradespeople and an attractive solution for consumers looking to create a space that's useable all-year-round.
For more information call SupaLite on 01772 828060 or visit www.supaliteroof.co.uk.