Milwood Group, the Kent-based outdoor living specialists have hailed The FIT Show 2019 as the most successful exhibition in company history, with a record number of enquiries for their range of premium aluminium verandas, canopies and shelter solutions.
Operating across two stands, visitors focused their attention on Milwood's new product lines, officially launched at The FIT Show. The first was Simplicity Xtra, Milwood's brand-new easy fit roof system, while the second was Ali-deck, the world's first quick fit, slip resistant aluminium decking system.
"It's safe to say this year's FIT Show has been nothing short of fantastic for us," comments Kevin Horne, Managing Director of the Milwood Group. "The combination of Simplicity Xtra and Ali-deck, our ground-breaking aluminium decking system, generated a record response with over 100 meetings booked during the first day alone.
"It's no secret that the outdoor living market is absolutely thriving, and it was great to see such a diverse range of tradespeople respond to the opportunities offered by our product range. Whilst Simplicity Xtra offers an easy fit shelter that doesn't compromise on quality or performance, Ali-deck gives trade partners the chance to offer something completely unique, which can increase the value of their installations.
"As regular FIT Show exhibitors, once again the show didn't disappoint. We are already hard at work catching up with those businesses we connected with in Birmingham and we very much look forward to more success at FIT Show 2020."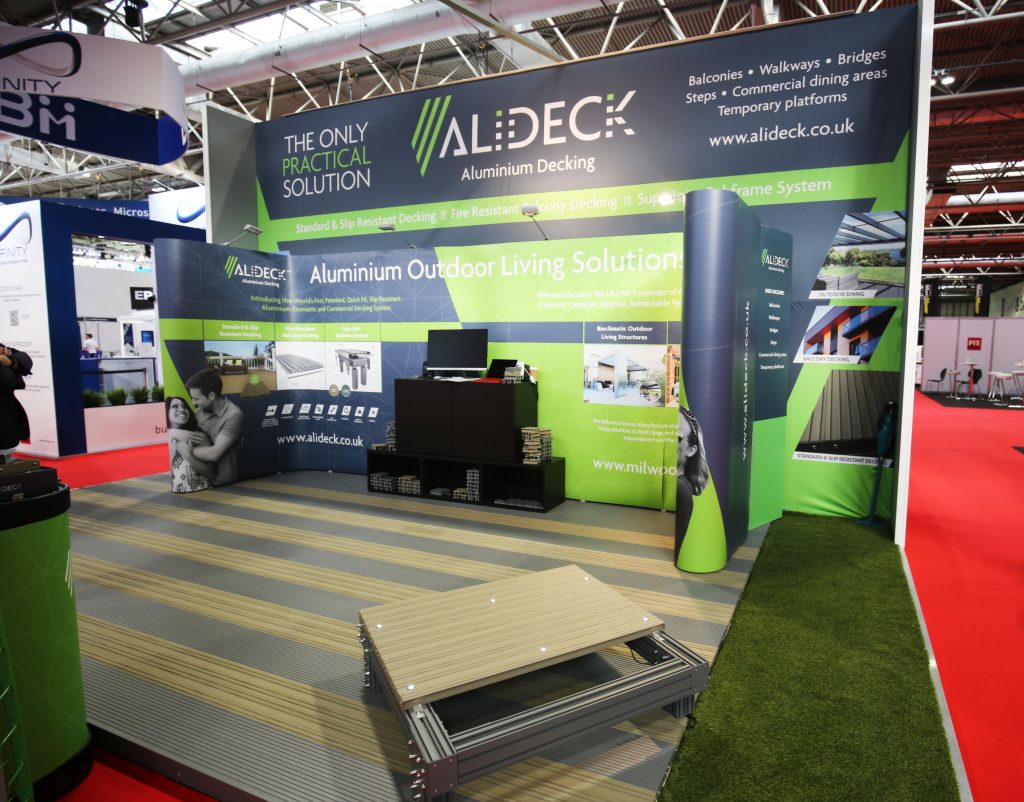 The second Milwood stand was dedicated to Ali-deck and featured full aluminium decking throughout and showcased examples of their innovative Supa Joist. This robust aluminium sub-frame allows Ali-deck to span 300% further than both traditional hardwood and composite decking. This not only adds to Ali-deck's inherent strength, it makes it incredibly quick and easy to fit.
Mark Wood, Milwood's Founder and MD of Ali-deck adds: "FIT presented the perfect platform to officially launch Ali-deck and we're overwhelmed by the sheer level of feedback and interest. Ali-deck not only works as a standalone product – suitable for both commercial and domestic uses, it's the perfect pairing for our aluminium verandas, allowing installers to offer a complete, premium outdoor living package. It's a fantastic way to stand out from the competition, offering a product which is not only unique but is faster to fit, safer and more desirable than the competition."
For more information contact the Milwood Group on 0330 404 9086 or visit www.milwoodgroup.com