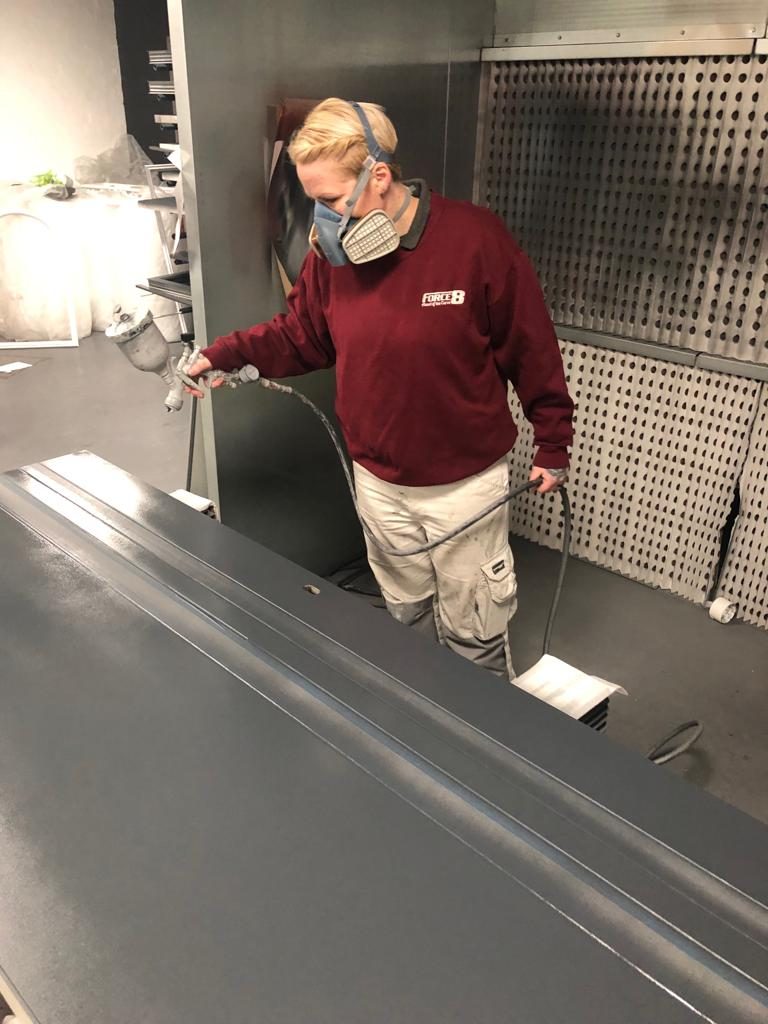 To start off 2019 right, Force 8 have now started to spray their range of composite doors on site to ensure quality control and improved delivery dates.
Dennis Sumner, Managing Director of Force 8 comments "This is an exciting new project that we have been working since the beginning of 2018".
Manchester based Force 8 are always looking to expand on their range of ideas for production and being able to spray in house ensures that the highest quality control is taken throughout the manufacturing process. They have an expert team that can work towards the completion of spraying the door and can ensure that the door and frame are colour matched with no variation before this is sent out to the customers.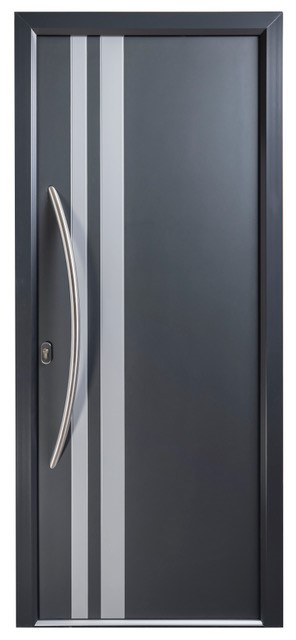 Customers can choose from any RAL colours for their door and frame. Force 8's colours have proven to be very popular especially Anthracite Grey and Chartwell Green.
Force 8 have started to expand on their decadence door range by designing two tone etched composite doors. These new designs, the Zermatt and Geneva door are industry first designs that have already proven to be popular. The demand for coloured doors has driven the market for a while, but no one had thought of combining two colours in such a contemporary fashion. The main colour of the door is Anthracite Grey with your choice of the secondary colour. Some of these designs will be displayed at this year's FIT show in May.
"The biggest decision for us to colour our own doors was that more of our customers are requesting coloured doors, especially with the very much popular Anthracite Grey and Chartwell Green. Colour is key to any home to enhance the kerb appeal and to be able to improve delivery times by spraying on site allows customers to improve their home quicker".
Force 8 have had a great start to 2019 by introducing new door designs to their collection. The Oslo, Bergen and Geneva doors have been added to the exclusive decadence door range. These designs have been added to their industry leading door designer, allowing them to take start taking orders for the designs. The door designer allows customers to easily visualise how their new door will look on their home with the feature of uploading a photo of your own home. You'll be taken through a step-by-step process of the creation of the door, choosing style, colour, glass, frame and hardware and even smooth or textured finish, with the final design being displayed in high quality graphics. The new tool is also available for Force 8 installer customers to add to their own websites and use as a lead generator.
Force 8 is well known nationwide for their renowned unique profile bending and composite doors. To back all this up, Force 8 can deliver their products nationwide, so you are never far away from their amazing services and arched composite doors.
Remember to obtain your copy of the 2018 door collection brochure. This new brochure features 64 pages of Force 8's expanding door portfolio which has the addition of new door designs being added, giving a wider option to choose from.
Don't hesitate to contact Force 8 to discuss their many arched composite door options and how they can produce a design for you.
Tel: 0161 483 1997
Email: info@force8.co.uk
Web: www.force8.uk