Following months of preparation and planning the GGF reflected on an enjoyable event as thousands of visitors attended the three-day show spread across three halls at Birmingham's NEC from 21-23 May.
The GGF stand was a mixture of topical presentations, hospitality and a mini-golf game which many found fun as they attempted a hole in one. In other parts of the exhibition, the GGF presence was evident with eight presentations in the FIT Show Seminar programme and with over 30 GGF Members exhibiting at the show.
Kevin Buckley, GGF Group Chief Executive commented, "This was my first time attending FIT Show and I found it an interesting and useful event. I was also pleased to engage with so many Members who were either exhibiting or visiting."
Richard Hearn, Head of Membership and Training commented, "I was pleased to participate in the new Skills Thursday initiative. We were able to highlight our focus on professionalising the industry through our "Training the Industry" campaign which upskills and trains Installers and Surveyors. The Skills Thursday debate was a great platform to share views and consider the solutions through effective industry collaboration. Andy Clegg our Chief Trainer and his team set a great challenge with their window and door installation build including 10 faults to identify – this tested even the best of the best who came along to our stand."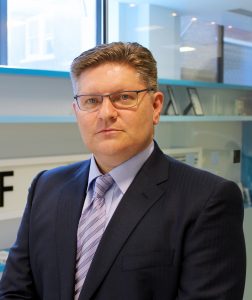 James Lee, GGF Director of External Affairs, added, "We did a huge amount to increase our profile at this year's show and I was pleased with our build up, the preparation and the PR for the event. Our stand was well designed for a diverse audience who I feel enjoyed visiting whether it was for information on joining, technical support, training advice or just a social visit. The videos we displayed on the screens seemed to be well received and visitors enjoyed our golf hole in one competition. One outstanding feature of this year's show was the build and design of the stands. It's clear our industry put a lot of thought, time and investment into making FIT Show visually stunning."
The winners of the GGF FIT Show "Hole in One" Golf draw were:
Day 1: Neil Blanchflower
Day 2: Stacey Leahy 
Day 3: Martin Greenfield
The GGF offers its congratulations to all three winners and each will receive a bottle of bubbly.