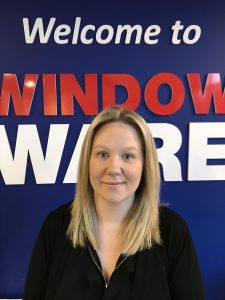 Any successful Managing Director will tell you, a company is only as good as its people. Window Ware knows full well the critical role its employees play in delivering the best possible customer experience capable of building a first-class reputation, nurturing trust and ultimately encouraging growth for the business. That's why this month, the company has taken the time to recognise its most talented team members with its 'Going the extra mile' Award.
Each and every Window Ware worker was invited to vote for the colleague who they thought had gone the extra mile to deliver fantastic customer service or had demonstrated outstanding team spirit. It was heart-warming to see nominations for individuals literally from every department, from the warehouse to sales and from purchasing to accounts. It just goes to prove you can find passion and commitment in every corner of the business. But there has to be a winner and the employee who received the most votes was sales co-ordinator of almost 15 years, Hayley Jackson.
Head of internal sales and marketing, Sarah Binns was delighted to give Hayley the good news. Sarah remarks, "Our customers only ever have good things to say about Hayley, so this colleague's choice award only serves to verify what a great person she is to work with. Hayley was nominated because of her dedicated service to customers, her knowledge and her helpful nature. She should feel very proud of herself because she's earnt the acknowledgment and appreciation of her workmates. Hayley and a friend will be treated to a slap-up meal at a local restaurant curtesy of Window Ware. Congratulations Hayley!"
A special mention also goes to award runners-up, Alex Battams (Purchasing & Service Manager), Vasyl Lazarevych (Purchasing Officer) and Sam Billington (Sales Office Manager). It was a close-run thing with just one vote separating each candidate. According to their colleagues, all four teammates stood out because of their camaraderie, professionalism, flexibility and enthusiasm. It's exactly these characteristics which have earnt Window Ware a reputation as the UK's No1 hardware distributor, as well as a Service Excellence award at the SME Bedfordshire Business Awards, plus runner-up position at the SME National Business Awards AND a nomination for 'Customer Care Initiative' at the G18 Awards. This 2018 honours list makes the perfect way to wrap up a terrific year for Window Ware and sets the benchmark for 2019.